Guest post : David LeClaire, Sommelier pairs Harlow beef with some of his favorite Washington wines
Recently I had the good fortune of enjoying a BBQ with good friends, good wine, and well, great steaks! As a red wine lover and someone who can appreciate a great cut of beef, this was a night of perfection and bliss. It all began with stepping into Rain shadow Meats, a new, old-school, full service butchery featuring all local meats and a custom curing room, in the ultra-cool Melrose Market in Seattle's Capitol Hill neighborhood. When you enter you know you're going to enjoy anything in their case. But when I asked for the Harlow Cattle Company's steaks – the butcher smiled, and confirmed with a nod of his head and knowing smile that I was in for a treat.
He told me Harlow, a husband and wife team located about an hour south of Seattle, raise their cattle on a strict diet of natural grasses and legumes grown on the ranch and some Alfalfa grown in Eastern Washington. He packed it up and I drove to my friends home, where they were eagerly waiting knowing I was bringing some of the best fresh, locally grown steaks money could buy. They had opened 2 great Washington wines to share with me, the Cayuse En Cerise Syrah, and the Amavi Cellars Cabernet. For good measure I popped the cork on another powerhouse from Washington, Efeste's Ceidleigh Syrah. It's no surprise these big, intense red wines were a match made in heaven for the Harlow steaks. All three wines were what you'd want to pair with these delicious steaks; bold, spicy, and powerful.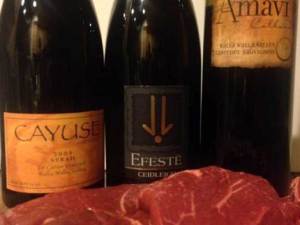 Having had grass fed beef in the past, I have often found it to be so "healthy" that it lacked the juiciness and texture most of us come to expect with a great steak. On this day however, I was completely convinced that it doesn't take growth hormones, anti-biotics, and feeding the cattle grains to get a great steak. The animal can have an incredibly natural and healthy diet, and yet the meat can still have excellent marbling needed to deliver that memorable best steak I ever had experience! Typical wet-processed grocery store steaks are fine, but to me they barely have any flavor. How would I describe the difference between ordinary grocery store steaks and these dry-aged steaks (almost 2 weeks!) ? A juicy combination of tenderness and flavor that is simply put, more beefy! I'm looking forward to my next opportunity to enjoy the savory, locally grown Harlow Cattle Co. steaks along with some locally grown Washington Syrah and Cabernet!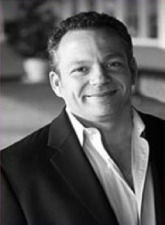 David LeClaire is a certified sommelier from the Court of Master Sommeliers and currently serves as Wine Ambassador for Esquin Wine & Spirits, David was the Founder of Wine World & Spirits, the largest independent wine store in the Northwest, and was awarded the "2013 Independent Retailer of the Year" award by the Washington Wine Commission and was featured in Seattle Metropolitan Magazine.He is also the founder of the popular wine club Seattle Uncorked and produces a wide array of wine, spirits, and beer events each year.
David LeClaire served as wine director at Seattle's prestigious Alexis Hotel(& Painted Table Restaurant) for ten years. David is often booked for speaking engagements for wine clubs and special events, is an instructor at both Bellevue College &  North Seattle College, and serves as judge for various wine competitions including the Oregon & Seattle Wine Awards,  Northwest Wine Summit, and Seattle Magazine's  Washington Wine Awards. Mr. LeClaire is also a free-lance writer for the Washington Tasting Room Magazine.  David is the creator of a multitude of charity fundraisers and promotional wine events, and is also a wine program and marketing consultant with Q Hospitality Management.